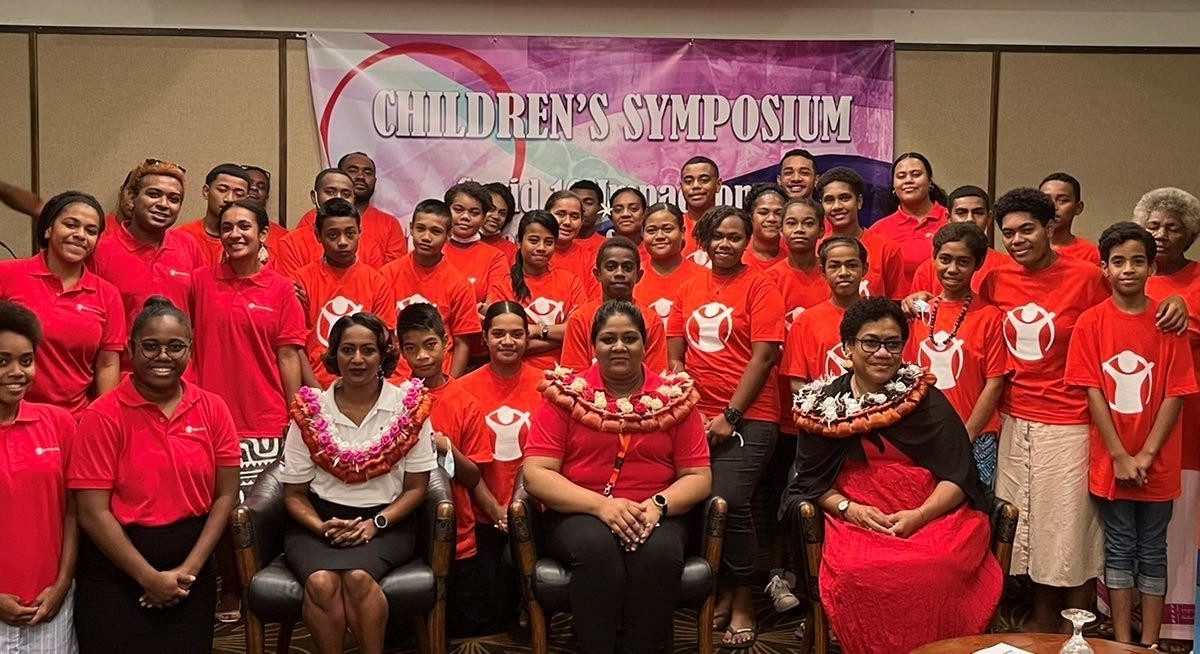 Suva Fiji, 30 March 2022 – The plight of children on the COVID-19 impact was brought to the fore in a Children's symposium organized by Save the Children Fiji in partnership with the Department of Social Welfare and Medical Services Pacific on Saturday 26th March 2022.
The event allowed for dialogue amongst the stakeholders and communities especially with the children who also used creative expressions through painting, music and poetry to advocate on child protection. This year's theme was 'Children's Symposium on the Covid-19 impact on Child Poverty and Social Protection' which aligned with Save the Children's work to collaborate with local stakeholders to create long lasting, sustainable change in the lives of children in Fiji.
In Fiji as of 14th January 2022, a total of 1373 Child abuse cases were reported in 2021. This has decreased compared to 2020 to which 1719 cases were reported. A major factor was COVID-19 as there were restrictions in movement.
Office of the Director of Public Prosecutions' February, 2022 Report stated that there were 21 victims of sexual abuse in which 11 were children and the youngest victim a 7-year-old girl. Most of the reported incidents occurred within the victims' homes.
The Covid-19 pandemic was an adverse catalyst to the socio, cultural and economic landscape of Fiji. Families were struggling to adapt to the challenges as there was widespread loss of employment particularly for individuals living in marginalized communities.
Children are at high risk of being abused when there are no protection mechanisms in place. In a direct way, the pandemic could result in loss of parental care due to death, illness or separation which could lead to exposing children to the risks of violence, neglect or exploitation.
Save the Children Fiji Chief Executive Officer Shairana Ali stated "The Children's Symposium on the Covid 19 Impact on Child Poverty and Social Protection' is aimed at creating public awareness on the plight of our children. Save the Children calls on governments, donors, multilateral organizations and all other stakeholders to work together and take action to ensure that: Vulnerable households, both in rural and urban areas, benefit from social protection systems, and other specific support for the pandemic including cash or food assistance, and support for livelihoods so that families can meet basic needs during the pandemic. Current investments in social protection are protected and special mechanisms are adopted with an inclusive approach to reach the most vulnerable and marginalized families.
Families have access to basic goods and services previously provided to children by schools, such as food, health products, health counselling and guidance services.
We all must recognize and advocate that Children are at the center of response and recovery plans. We at Save the Children hope that today's symposium is used as a platform to stimulate dialogue among children, stakeholders and communities through the use of creative mediums and art to advocate the messages of child protection by the expressive forms of art by the children themselves as a means of strengthening social responsibility mechanisms to support dialogue between children and decision-makers at all levels.
Medical Services Pacific's Manager Counselling Division, Ms. Arteshni Jaykisun said, "Even before COVID 19, children in Fiji experienced different forms of violence including physical, sexual, and emotional abuse, neglect and bullying. And this has worsened because of COVID-19. COVID-19 pandemic has exposed inequalities tolerated by our communities until now in social, economic and health areas. The measures adopted to mitigate Covid-19, dramatically transformed the daily lives of children, affecting their access to schools, social ties, play space, and exposing them to early adversities associated with learning, behavior and physical and mental well-being".
The Assistant Director Child Services Unit of the Department of Social Welfare, Ms.Ela Tukutukulevu said, "Child Protection is everyone's responsibility. It requires an entire stakeholder approach. The government cannot work alone. There is a need to strengthen collaboration and work in partnership with NGOs and CSOs to implement changes within the community and national level, to protect the lives of our children."
The discussion from the symposium will be used for more awareness in the build-up to the Prevention of Child Abuse and Neglect (PCAN) Day and World Children's Day later in the year in November which is an annual event that is commemorated globally.
Artwork and the songs compiled from the symposium will be used as awareness materials based off the experience of and from the voices of children themselves to advocate for the rights of children's and to raise awareness on the effects of the impact of Covid 19 on children and how we all can works best as a society to address these issues and challenges.
The project will continue to work with children in the upcoming months, continuing to advocate for the safety, protection and wellbeing of our children.
Save the children Fiji has implemented and has ongoing various Child Protection projects. The children's symposium event falls under the project called "Collective Action to End Violence Against Children in Fiji" known as CAEVAC. The CAEVAC project's initiatives target formal systems and policies (advocacy, technical support); community behavior change (norms and attitudes towards parenting and protection of children); and building the individual agency of children to assert their rights.