Globally each year, more than 6.9 million children die before their 5th birthday due to preventable and treatable illnesses.
In Fiji, cases of child malnutrition and preventable illnesses add to these global statistics with many children not accessing the required nutrients for healthy development.  Recent research underlines this issue with results showing 70% of children surveyed in our communities bring unbalanced meals to school.  This is causing stunting and malnutrition of children whilst impacting upon their ability to learn and grow.
To prevent this from happening we take a multilayer approach. We work in more than 20 communities to change the nutritional status of children, whilst breaking down barriers that prevent access to health care and at the same time advocating for change across policy and government.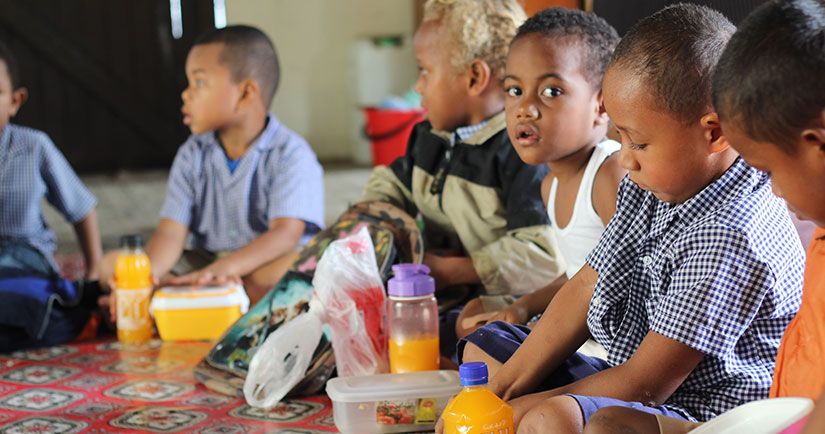 Community Child Nutrition Project

We connect communities with access to health services by helping train Community Health Workers in 22 informal settlement communities across the Northern and Central Division of Fiji.  Their work is helping change the nutritional status of children, parents and guardians whilst supporting communities to create long-term change through being empowered to protect their health.  These workers also act as the connection to regular health services, thus ensuring the barriers to health care are broken down.
Our work is focused on preventative care by empowering communities to create sustainable change in the health of children through education, community development and training of parents/guardians.
The connection between access to healthy meals and education is crucial for long-term cognitive development of young children and this is why we are dedicated to changing existing behaviours whilst empowering parents/guardians, communities and government to ensure health is a focus of every child's life from conception.
This focus has also resulted in the development of other key projects identified by Community Health Workers due to their connection and strong relationships with their local communities. Water and Sanitation issues, resulting in high rates of water borne diseases, such as scabies and diarrhoea, along with poor access to clean drinking water, has led to the development of key projects in targeted communities.
Further to this, our team works at ground level to both educate and support projects, developed within their communities, to help drive changes in behaviour that lead to healthier lives of their children.