Water Sanitation and Hygiene (WASH)
In the days after Tropical Cyclone Winston it was paramount to give children the tools and know-how to maintain a standard of hygiene that could ward off water-borne disease. We quickly rebuilt or repaired 86 toilet blocks, and installed 40 hand washing stations, with stronger materials to withstand the force of future cyclones.
With so many schools affected, we knew that to reach as many children as possible we would need to enlist support from communities themselves. So we implemented Hygiene Promotion Programs in 86 schools, in which trained students or community leaders, who could then take information learned and share it more broadly with their peers.
Many school water sources and toilet facilities were damaged during the cyclone. This ultimately prevented children from returning to school, which was not only detrimental for their education; it put a burden on parents to take care of them when they needed to focus their attention on rebuilding their lives.
No Child Overlooked
After the cyclone, we built and rehabilitated toilet blocks, particularly in remote communities, to ensure girls were comfortable to return to school. We also distributed feminine hygiene items so that girls didn't stay at home on days during their periods.
We are also constructing disability-access toilets and ramps, so that all children had access to education; both now and well into the future.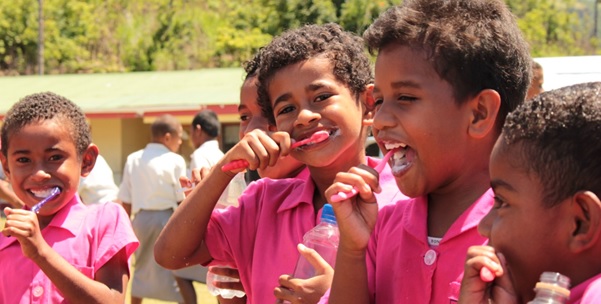 You can still donate to our Cyclone Winston Appeal and give children access to water, hygiene and sanitation.