Nutrition in Schools
Save the Children has reached and continue to support more than of 28,500 people; including 19,725 children from 109 primary and secondary schools 52 Early Child Education Centres.
After Tropical Cyclone Winston, Save the Children worked quickly to provide families, teachers and schools the tools needed to allow children to return to class as soon as possible. However, the extensive damage to crops meant that families did not have adequate food or a reliable source of income, which meant that many of those children returning to school were arriving without lunch.
Save the Children understands how crucial nutrition is for concentration at school, so we've implemented a school feeding program to help more students get back in to the classroom and moving on with their education. We provide schools funds and support that allow nutritious lunches to be cooked on site each day. Not only does this mean children are able to concentrate better in the classroom, it alleviates financial burden of providing lunch for children on school days, freeing up funds to help families rebuild their lives. Through Lunch feeding programme we are reaching 2065 children from 17 schools in Bua, Cakaudrove and Ra.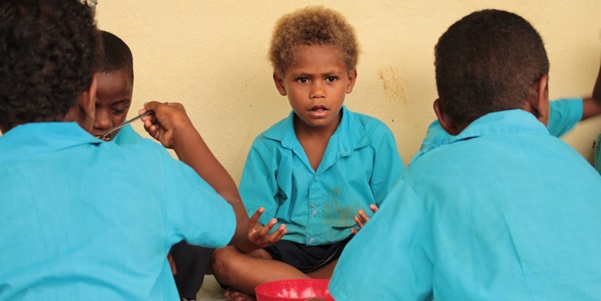 You can still donate to our Cyclone Winston Appeal and give children access to water, hygiene and sanitation.