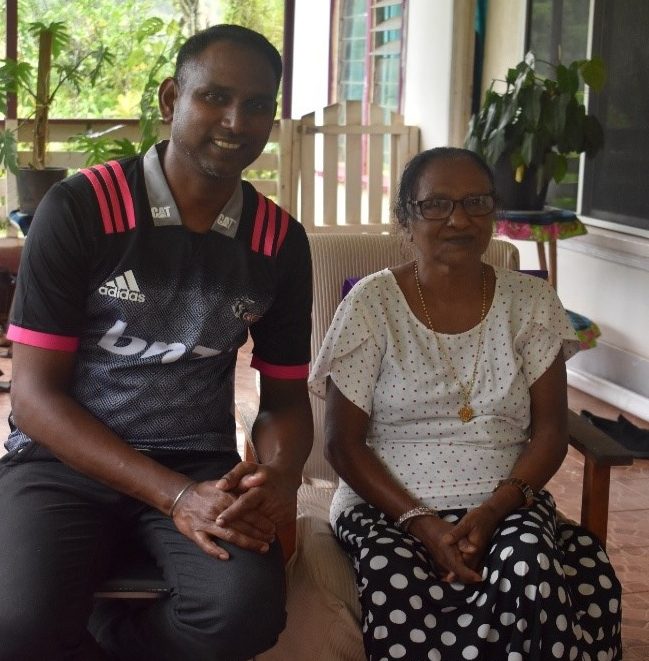 Amit and his 72-year-old mother live in a remote island in the North of Fiji. Since his fathers' passing, Amit has become the sole caregiver to his elderly mother.
Before the first wave of Covid-19, Amit used to cater and plan events for a living. His business was doing well bringing him an income of at least $200FJD every week. However, a ban on gatherings meant Amit's business ground to a halt.
Unfortunately, Amit's mother became sick during this difficult time. She needed a full-time carer to help her walk around the house, dress and shower. "When the Pandemic hit, that's when my mom was sick because she was diagnosed with minor stroke" Amit says.
Struggling to pay the bills, Amit picked up some casual work at a local hospital as a temporary reliever. He would only fill in hours at the hospital when called on by the staff there.
Despite the challenges of looking after his mother and having to make a living, Amit has remained positive and believes there was always a way to make ends meet.
"I never say no to going to work, though my mom was sick. Even during a cyclone in 2020, my mom was sick but I left her here alone and I went to work because I really needed the money," he says. "That was a really hard time for me," he adds.
Like many other people affected by COVID-19, Amit says he needs assistance to help cover his living expenses, his mother's medicine and other needs. "Day by day I can see that life is getting tough, things are getting expensive, we have to think twice before buying anything, we can't spend money unnecessarily" he explains.
Amit is also a proud member of the Rainbow Pride community, and it was through this network that he came to find out about the cash assistance offered by Save the Children. "That was the day I was praying and I was crying because I had so many things to do and I needed money," he says. "And it was that afternoon that someone called and asked me if I wanted to give my name to Save the children so they can help, and I cried and I said yes," he says, remembering the relief he felt at being offered support.  
Amit received his first cash assistance in November 2021. He used the money to pay for his utility bills via M-PAiSA and to buy groceries. The little money he had left he saved for his mother's medicine and fare for transportation to the doctors.
Save the Children has already provided cash transfers to over 39,000 Fijian families like Amit's. Our research shows that 95% of households assisted so far have spent their money on food and 49% of households put the money towards their children's education.  
Now that the cash assistance from Save the Children has concluded, Amit says he will try to work as many hours as he can at the hospital so he can continue to support his mother. He has also started to do some extra work on the side, selling roti and curry at the hospital to earn another $15FJD per day.
Cash is the most efficient and effective way to empower emergency-affected communities – and COVID-19 continues to be the most pressing emergency Fiji faces today. We know cash works, and that the project has already made a huge difference to the lives of vulnerable families. Amit says, "I really appreciate Save the Children for what you have done for the last 3 months for me and my mother. Thank you very much for helping me and helping other people who really needed the money".