29-year-old Naomi lives with her family in an informal settlement just outside of Suva, Fiji's capital. Naomi is a stay-at-home mum while her husband is unemployed, having lost his job due to the impacts of the pandemic. Together, they have four children aged 10 and below.
Till this day, Naomi and her husband struggle to find employment. "Currently I am facing financial difficulties because I have a lot of children and they need food and there is no employment" she says. "Due to Covid-19 restrictions we are not able to find work, so we are all staying at home."
When her cousin called to tell her about Save the Children's Cash Assistance Program, Naomi instantly enquired, hoping for a favorable outcome. To her surprise, she received her first cash transfer of $200FJD in late November. Overall, Naomi and her family have received 3 cash transfers over 3 months, helping them to get their lives back on track and meet their children's needs.
"I was surprised and happy at the same time as we did not have any money at all," she explains. "When I first received the cash, I started buying what we needed – mainly diapers and groceries, and the remaining funds to purchase my kid's clothes and 'Christmas Kalavata."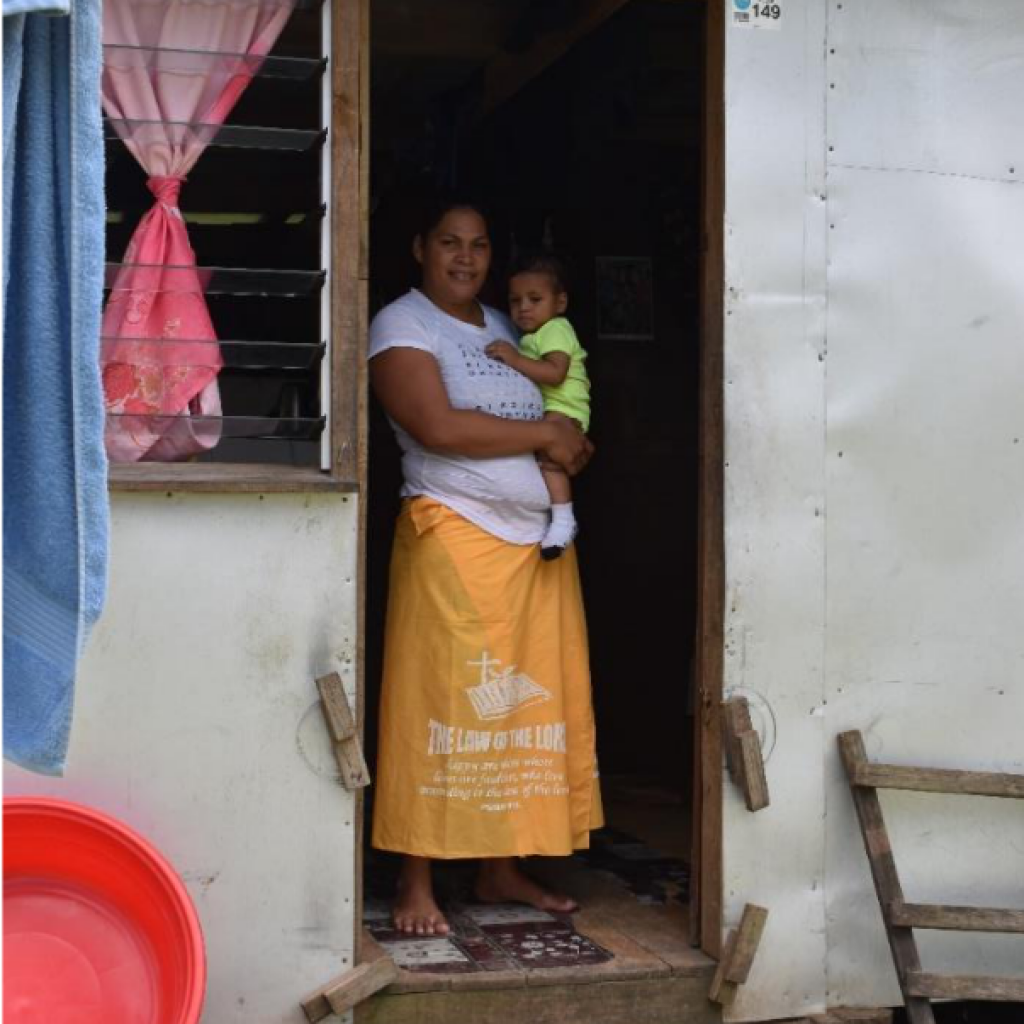 In Fijian custom, it is popular for families to dress in identical colors and prints during a special family occasion. This is called 'Kalavata' – Kala meaning 'color' and 'vata' meaning together. Naomi wanted to make this Christmas extra special for her children, and was proud to be able to use some of the cash assistance to purchase for her kids first Kalavata. "The kids were really happy because it was the first time that they had a Kalavata for Christmas" says Naomi with tears in her eyes.
While Naomi was filled with gratitude for the cash assistance, she also worries for the future – knowing that the third wave of Covid-19 will continue to make their lives difficult with the restrictions that it brings. She says they would like for the children to continue their education but doubts that this can happen anytime soon. "I don't see our lives getting any better in the future due to Covid, because there is still no employment and the kids can't go to school."
Save the Children has already provided cash transfers to over 39,000 Fijian families like Naomi's. Our research shows that 95% of households assisted so far have spent their money on food and 49% of households put the money towards their children's education.
Naomi holding her 8-month-old son Paula in their home outside of Suva. Photo: Save the Children Fiji.
Cash is the most efficient and effective way to empower emergency-affected communities – and COVID-19 continues to be the most pressing emergency Fiji faces today. We know cash works, and that the project has already made a huge difference to the lives of vulnerable families.
Naomi acknowledges Save the Children for the timely assistance provided to her and her family. "Save the Children was able to put smiles on my children's faces and I am so grateful to them for doing that."
Disclaimer: The project is now closed and we are no longer accepting any applications.