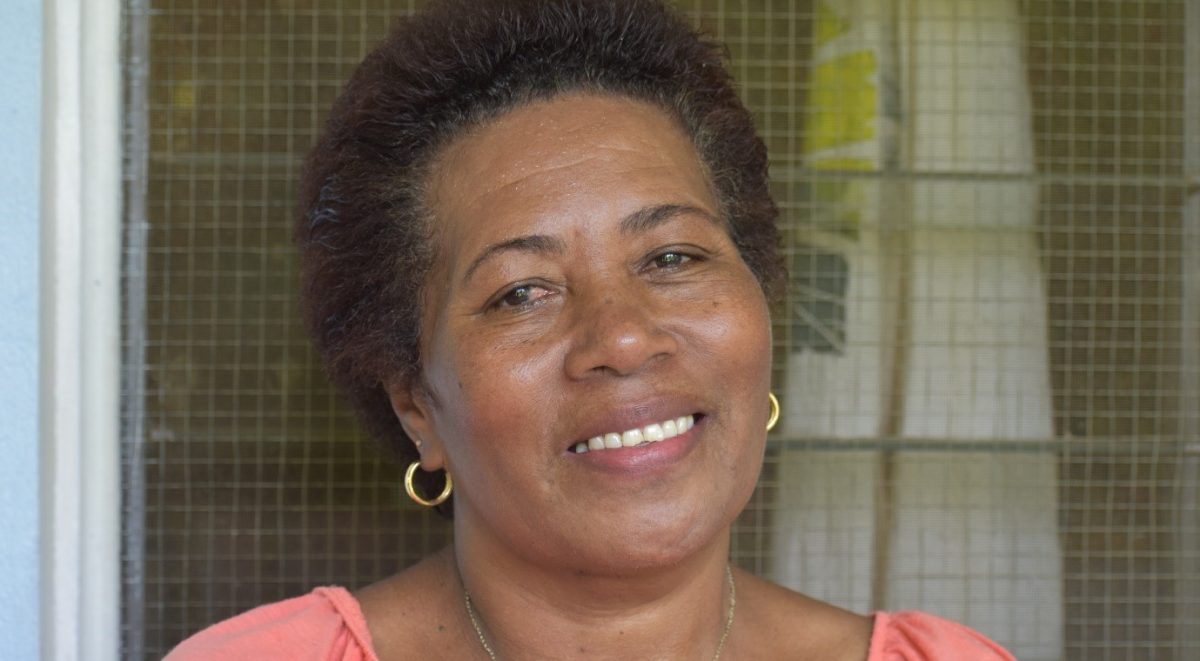 Mereseini is a 57-year-old widow. She lives in the province of Macuata in Vanua Levu with her youngest of four daughters and six-year-old grandson.
During the height of the pandemic, Mereseni's eldest daughter passed away from Cancer. She left behind her son, who now lives with Mereseni. This was a very hard loss for the family who were already dealing with the impacts of COVID-19.
At an elderly age, Mereseini still provides for her family and has also taken on the responsibility of raising her grandson.
"My youngest daughter is still in school. She's in Year 12 and she lives with me together with my grandson. My twins also girls, are working and we have been struggling for a very long time, but COVID-19 made it worse," she explains.
As the sole provider for her family, Mereseini struggles to keep up with home expenses. She says "people from the community sometimes came to visit and offer to help us with bills and food. I am always grateful for their kindness."
To make things worse, the family were already trying to recover from the impacts of Tropical Cyclone Harold in April 2020 and a subsequent flood, which badly damaged their home. Mereseini says they had to fix their home and cleaning up the damage took weeks.
When the pandemic first arrived their community, the family and some members of the community turned to the land and a nearby river for food.
Mereseini says the community was able to cope initially. "We didn't think much about it because covid-19 cases were increasing in Viti Levu – the main island," she says. "But slowly people here in the Vanua Levu started to get sick. Businesses closed, restrictions were implemented and jobs affected," Mereseini remembers.
"I am grateful that I live in a caring community because when that happened, everyone lends a hand and that's how we got through that," she remembers. "But when covid-19 cases started increasing in this division it was a bit difficult for everyone," Mereseini says.
It was not long until Mereseini heard about Save the Children's Fiji Cash Assistance Program from someone within the community. She immediately decided to apply for assistance and received her first $200FJD payment in November 2021.
The grandmother remembers how she felt receiving her first assistance. "I knew this was God's helping hand to us. I could pay for my electricity and water bill without having to worry about it for a while and also buy food for my daughter and grandson."
When the remaining two payments came through, Mereseini prioritised education for her children. She used a portion of the money to buy stationery for her daughter in Year 12 and clothes for her grandson.
She was also able to invest in an ice block business, using the cash transfer to buy the moulds and ingredients she needed. Mereseini says she can sell up to 40 ice blocks in a day.
"I sell my ice blocks for 55cents each. It has generated a lot of interest and kids love buying them. I just buy the ingredients for the ice blocks, like milk, sugar, food colouring, moulds and I just make it at home."
Mereseini further explained that she also owns a small piece of land that is being leased.
"I get a little bit of payment from there annually but it's still not enough to get through life sometimes." she says.
Just like other villagers, Mereseini is committed to her church obligation, and with every $200 received, ten percent goes towards her tithe. She believes having faith is key to a good future.
"We believe in God. Whatever comes we'll accept it as that. We do pray every day." she says
Mereseini is thankful to Save the Children Australia and the project team for stepping in to assist when they needed it the most.
Save the Children has already provided cash transfers to over 39,000 families in Fiji. Our research shows that 85% of households assisted so far have spent their money on food and basic necessities, and 49% of households put the money towards their children's education.
Cash is the most efficient and effective way to empower emergency-affected communities – and COVID-19 continues to be the most pressing emergency Fiji faces today. We know cash works, and that the project is already making a huge difference for the lives of vulnerable Fijian families like Mereseini's.