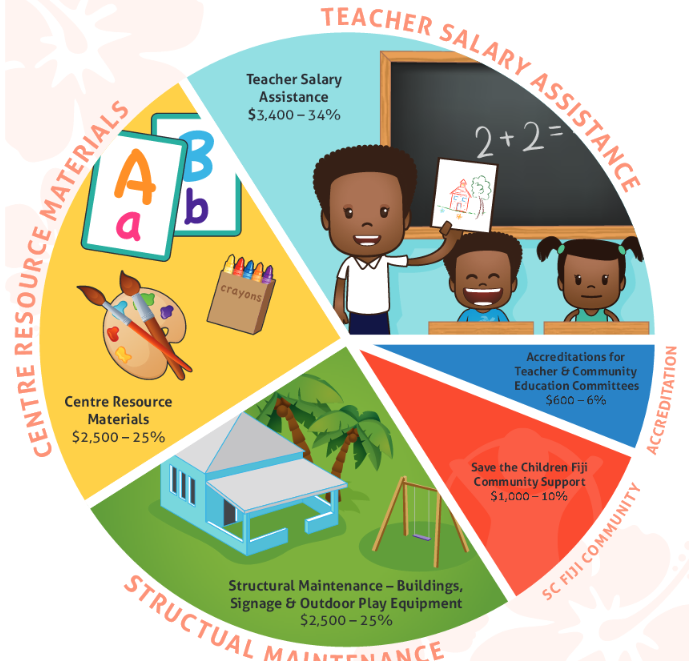 Right now there are more than 58 million children worldwide that are unable to access quality education. In Fiji, access to schooling is difficult for many young children in the vulnerable and marginalised communities in which we work.
To help ensure that children can access quality early childhood education (preschool) in their own communities and, not be left behind when they begin formal schooling, you can Adopt-a-Preschool.
We have worked in this field for more than 40 years ensuring that children are given the best access to quality education whilst at the same time we are campaigning to reduce the barriers that otherwise prevent access.
By donating $20,000 FJD you can adopt one of the 52 preschool centres for 12 months and thus help prepare children for formal schooling. This includes covering tuition for all of the students in one of these communities along with key resources and teacher wages that are needed to ensure long-term sustainability of education in the area served by the centre.
This donation will also ensure that the centre is able to become recognised by the Ministry of Education which ensures these costs would be covered into the future.
What $20,000 pays for?
1 full year of a teacher's salary
Outdoor play equipment for children
Learning materials (books, crayons, pencils)
Ensuring that regulatory requirements are met
Maintenance and building costs if necessary
Further education of teacher in child protection, healthy ways to discipline children, best way to teach children.
Support of teacher to complete or increase studies in Early Childhood Education.